Training Tips to Ace your MoRun
Posted on by MoRunning
Whether this is your first race or your one hundred and first, making sure you are in tip top form for your MoRun is essential.
Many of our runners come to us after following the Couch to 5k programme, which is a great way to get started with your running journey. Building up slowly across 9 weeks, the programme takes you through from being a total non-runner to running 30 minutes at a time. The app includes motivational commentary and encouragement from celebrity Couch-to-5kers and pro athletes like Michael Johnson, and you can still stride to your own vibe while listening to your favourite music.
Why not make your first 5k race a MoRun – with 24 events around the UK and Ireland there is bound to be one near you, and if not (or if you are reading this from far-flung corners of the world), then join our Virtual MoRun. MoRunning is all about having fun while supporting an important cause and as such our MoRuns are a great introduction to the world of running events.
When you've nailed the 5k, you might be looking to take your running further –check out this training plan from our partners The Gym Group to help you move from a beginner to a 10k pro over 6 weeks. Which as I write this is just enough time to be ready for your MoRun in November!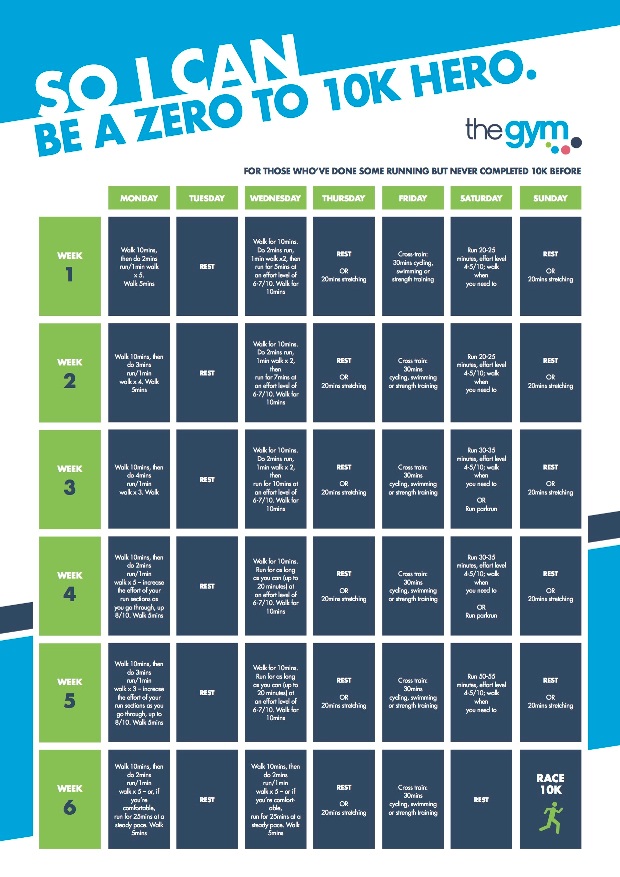 Remember your training doesn't all have to be pounding the pavements – cross training like rowing, strength training or cycling is also beneficial to runners. Firstly it helps to balance out your muscles – by training non-running muscles and resting the ones you use most for running, you will strengthen your muscles across the board, reducing your risk of injury. Many cross-training activities are also great cardiovascular workouts, so help to improve your fitness, while resting your running muscles and keeping variety in your training (even the most hard-core running enthusiasts get bored). Dust off that bike, or check out your local swimming pool!
Finally, to make sure you get to your MoRun in the best condition, don't ignore any niggles, get them checked out by a health professional before they become a big problem which prevents you from joining us!
We look forward to seeing you all smashing it in November!